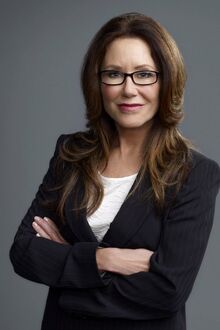 Captain Sharon O'Dwyer Raydor is a fictional recurring character on the TNT police procedural drama The Closer, and the protagonist of its spinoff, Major Crimes. She is portrayed by Mary McDonnell.
Biography and family
Edit
Sharon is long estranged from her husband Jack (Tom Berenger), an attorney who moved to Las Vegas to gamble, and finally divorced him in 2014. They have two grown children, Richard William "Ricky" and Emily Raydor. In "Down the Drain," Sharon was officially divorced and officially adopted Rusty Beck, the star witness against serial rapist/murderer Phillip Stroh.
As a Captain in the Los Angeles Police Department, Sharon drives a Ford Crown Victoria Police Interceptor on duty and carries a Glock 26 in 9x19mm as her personal sidearm.
Force Investigation Division
Edit
As the Captain of the LAPD's Force Investigation Division, Sharon is charged with investigation of officer-involved use of force and bound by federal oversight, which brings her into conflict with Deputy Chief Brenda Leigh Johnson of the Major Crimes Division, and the two soon develop an adversarial relationship. Over time, they have gradually come to respect each other, and Raydor is instrumental in Brenda's candidacy for Chief of Police.
Major Crimes Division
Edit
After Chief Johnson's retirement in 2012, Captain Raydor is named her successor as Commanding Officer of the LAPD Major Crimes Division, to the initial disappointment of Lt. Provenza.
Although a competent officer and administrator, the transition from Internal Affairs to Major Crimes has left Sharon struggling to close the department's highest-profile cases, while simultaneously trying to earn the trust and loyalty of Chief Johnson's team (which is now her team).  Unlike Chief Johnson, Sharon's approach to Major Crimes is not to arrest the defendant on the highest possible charge, but to get the perpetrator to plead out and go to jail, without the possibility of appeal.
Awards and decorations
Edit
The following are the medals and service awards fictionally worn by Captain Raydor.
LAPD Police Meritorious Unit Citation
LAPD Police Medal for Heroism
LAPD Human Relations Medal
LAPD Police Life-Saving Medal
LAPD Police Meritorious Service Medal